Rating our own drafts
First up, lets do a quick summary of how everyone thought they did. Here's how we each rated our own draft (except Pete and Max):
| | | |
| --- | --- | --- |
| Team | Rating | Comments |
| Brees | 6 | It was fine. Always going to be tough at 10th pick and no 3rd round pick. Missed out on a few players we wanted, but also think we got some decent picks on off and def |
| T2 | 6 | Very few picks, and the offensive targets taken off the board early. Saying that, I did get a couple of my targets for D. So 8/10 on that side but 4/10 on the Offence. |
| Sadness | 4 | I'm not excited by any of the players I've drafted |
| Losers | 8 | Went better than I expected |
| Hurricanes | 4 | Average |
| Bombermen | 9 | Beyond trading a handful of magic beans for Bijan, I don't think it could have gone much better really. Sure, there were some long shot running backs I'd been keen on picking up later who went earlier than I expected/hoped, but I think my top 7 picks all stand a chance of being starters by the end of year two and then I like the wildcards I picked up. I don't have expectations for any of them to be starters, really, but as lottery tickets, I think they're decent. |
| Kelkowski | 6 | Tried to trade with Neil for Bijan. Should have pushed harder. Besides that got some of my main targets but missed out on a couple I really wanted that just didn't fall to me |
| Dyna Hard | 8 | I got Bijan which starts me at a 10. But I reached on Richardson, Downs (I think, I had him as a late 1st talent, but thought I could have got him in the 3rd) and Musgrave, which knocks a couple of marks off for me. |
So that's only Neil and Mike who think they didn't do at least above average. We'll see how that chimes with what the rest of the league thought.
As to players people missed out on, only one player got two mentions: Chase Brown. Beyond that, Jaxon Smith-Njigba, Anthony Richardson, Jalen Carter, Jalin Hyatt and Tyler Scott each got a nod.
I asked people about overall philosophy. A couple of people mentioned BPA, a couple mentioned focusing on need, and then we had a few people focusing on stocking up at different positions: QB (twice), RB (twice), WR (twice), TE, DE, DT and "all defenders", so literally everything bar kicker and punter. Which is probably a) why everyone is relatively happy with their draft as we weren't really competing with each other and b) why Pete ended up with a kicker and a punter.
Right, that's enough for overview, let's get on to where we slated each other's picks. I've decided to do some tables even though LibreOffice is fucking useless with them.
Pete
As always, I'm starting with Pete because his team gets listed first and I don't know why that is. I'm just bitter about always having to scroll right to the bottom of things to see my team.
Category
Our pick
Runner up
Best player
1.02 Jaxon Smith-Njigba WR (7 votes)
2.02 Kendre Miller RB (1)
Best value
Kendre Miller (4)
3.02 Marvin Mims WR (3)
Worst value
4.02 Zach Evans RB
Marvin Mims (2)
5.02 Israel Abanikanda RB
5.11 Siaki Ika DT
5.12 Mazi Smith DT
Kendre Miller (1)
Likely bust
Marvin Mims (5)
Kendre Miller (2)
Sleeper
7.02 Jordan Battle S (7)
8.02 Ethan Evans P (2)
Always a good start when your first 2 picks split votes for best player, and then your 2nd and 3rd picks are hailed as good value (although possibly a warning sign that you didn't really get a standout pick). With pretty much every pick getting a vote for worst value, either that means it was a tough call to find bad value or you screwed up the whole draft. Jordan Battle seems to be well liked as a potential sleeper. So all in all, it seems a solid draft but probably unspectacular draft. And that's what our ratings said: an average of 6, with a low of 4 and high of 8.
That's reflected in the comments. If there was a word cloud it would say "safe", "solid", "good", "decent" in big letters and not much else. JSN seemed to be his most controversial pick based on the comments, as a couple of people questioned taking him over Gibbs or looking to trade down (or at least questioned whether we should question it, which is far too meta at this point of the analysis). Given the absolute lack of trades and the general consensus that Pete is rebuilding, taking a WR seems sensible to me.
Ben and Stew
Reigning champions, do we think they are building a dynasty or, like Brees himself, are they destined to pad their stats for the rest of their career?
Category
Our pick
Runner up
Best player
2.10 Bryce Young QB(4)
1.10 Zach Charbonnet RB (3)
Best value
8.10 BJ Ojulari DE
Zach Charbonnet (2)
4.10 Myles Murphy DE
6.18 AT Perry WR
Bryce Young (1)
Worst value
Bryce Young (4)
Zach Charbonnet (2)
Likely bust
Zach Charbonnet
Bryce Young
Myles Murphy (3)
No one
Sleeper
BJ Ojulari (4)
7.10 Ji'Ayir Brown S (3)
The analysis here is very simple. We loved Bryce Young and Zach Charbonnet, we thought that Zach Charbonnet and to a lesser extent Bryce Young were good value, we though that Bryce Young and to a lesser extent Zach Charbonnet were bad value, and we think that Charbonnet and Young will be busts. Or good. BJ Ojulari got 2 votes for best player but only 4 people thought he'd be useful, so I guess there was a pretty wide divergence of opinion on him. The voting seems to back up our nonplussed opinion of this draft, with an average of 4.9, with a high of 7 and a low of 2, against his own rating of 6.
The comments seem to flag up that its tricky having the #10 pick: 6 comments, and 4 mentioned the challenge of picking at 10. Won't someone think of the poor champions? And hey, two people did! Interestingly one person (I think it was Slatz, but I can't be arsed actually checking) referred to Bryce Young as a "low-upside QB", which I think is a bit harsh. I see him more as a high downside QB, with his tiny frame, but if he stays healthy he could be Burrow or Herbert level.
Tamworth Two
He came into the draft with the least amount of capital, what did we think?
Category
Our pick
Runner up
Best player
3.07 Tyjae Spears RB
4.07 Calijah Kancey DT
6.07 Luke Schoonmaker TE (2)
5.07 Emmanuel Forbes CB (1)
Best value
Luke Schoonmaker (5)
6.06 Adetomiwa Adebawore DT
Tyjae Spears (1)
Worst value
Emmanuel Forbes (6)
Tyjae Spears (1)
Likely bust
Tyjae Spears (4)
Emmanuel Forbes (3)
Sleeper
7.07 Sydney Brown S (5)
8.07 SirVocea Dennis LB
9.07 Ventrell Miller LB (2)
I feel like its not looking good for Goody here. When your 6th round pick ties in the vote for best player, either you got the best steal since Tom Brady, or no one liked your early picks. Everyone agreed Schoonmaker was great value though. And everyone (bar one mad person who called him best player, but I thought Pete and his CB fetish didn't vote?) thought Forbes was bad value. But Sydney Brown is another safety that we liked as a late pick.
Goody came out with an average of 4.5, with a high of 7 and a low of 1, against his own rating of 6. I think "divisive" is the best word for this one. One person called the draft "fucking amazing", one person called it solid. But then three panned it, saying that it was "awful", that there was a lack of contributors in the draft, and lots of contenders for worst value. But well done everyone for factoring in draft capital – pretty much everyone mentioned the lack thereof in their comment.
Mike
We're four teams in and I've already run out of intro material. This is promising.
Category
Our pick
Runner up
Best player
2.04 Dalton Kincaid TE (6)
3.04 Drew Sanders LB (2)
Best value
Dalton Kincaid
Drew Sanders
7.04 Devon Witherspoon CB (2)
6.14 Keion White DT
5.04 Nolan Smith DE (1)
Worst value
Drew Sanders
4.04 Cedric Tillman WR
1.04 Zay Flowers WR (2)
6.04 Sean Tucker RB
8.04 Gervon Dexter DT (1)
Likely bust
None of the above (4)
Zay Flowers (2)
Sleeper
Devon Witherspoon (6)
9.04 Keaton Mitchell RB
10.04 Bryce Ford-Wheaton WR
12.04 Jammie Robinson S (1)
Kincaid seems pretty universally liked, while Sanders feels divisive – 2 calls for best player, 2 for best value, and 2 for worst value. The lack of mention of their 1st round pick until worst value feels worrying, but at the same time Flowers only taking away two votes in that category makes it seem like its possible that pick was fine, its just that they picked up better players later on. And Devon Witherspoon seems to be adored. If you all like him so much, why didn't you pick him?
The grading supports the general positive vibes: an average of 7.4, with a high of 9 and a low of 4, against his own rating of 4. Yes, we all like the players that Mike drafted far more than Mike, who drafted them, did. He was the only person to outperform his own rating by more than 0.1, and did it by 3.4 points. Cheer up mate. Maybe some of these comments will help: "Well done Mike, you bastard." "I like a lot of this." "Took a few from me when I was lining them up." "Considered and strong." "Really solid middle section." (I think those last two are still about the draft, but they might be a personal reviews)
Slatz
Slatz thought he was a big winner in the draft. Did everyone else think he was a loser?
Category
Our pick
Runner up
Best player
1.09 Jalen Carter DT (3)
2.01 Devon Achane RB (2)
Best value
3.09 Michael Mayer TE (5)
4.09 Daiyan Henley LB
7.09 Will Levis QB (1)
Worst value
Jalen Carter (3)
Devon Achane
Will Levis (2)
Likely bust
Devon Achane (5)
Michael Mayer (3)
Sleeper
Will Levis (4)
10.09 Ivan Pace LB (2)
Another interestingly divisive one. Carter heads up the list for best player and worst value, with Achane just behind him in both. Mayer gets the nod for best value but also solid consideration for most likely to bust. Depending who you ask, Will Levis is good value, bad value, a sleeper, or a freak who puts mayo in his coffee.
That all led to a very wide range of scores. An average of 5.6, with a high of 9 and a low of 1, against his own score of 8. One person called it a disappointing first 3 rounds, but one person said great early picks and then tailed off. One person called Achane a great pick, one called him a waste of a pick. One loved him getting Carter, one said it was bad value. One called it a bumper crop, one said he was picking players they weren't interested in. If his draft was an equation, it'd all cancel out and just leave an equals sign.
Neil
I think its fair to say that Neil's trade of the #1 pick is going to be a defining factor in this section.
Category
Our pick
Runner up
Best player
5.05 DeWayne McBride RB (3)
2.09 Rashee Rice WR (2)
Best value
DeWayne McBride (3)
3.06 Chase Brown RB (2)
Worst value
4.01 CJ Stroud QB
Rashee Rice
Chase Brown (2)
3.01 Tyree Wilson DE (1)
Likely bust
Rashee Rice
Chase Brown (4)
Tyree Wilson (3)
Sleeper
9.01 Jatavius Martin S (4)
None of the above (2)
I think at this point I should say that I haven't looked at the results before writing this up, and I write up this section first before looking at the overall scores and comments. But I get the feeling Neil is going to be in for a rough ride here. He came into the draft with the #1 pick and the consensus best player he drafted was at pick 45. Chase Brown is oddly divisive. Remember two people called him someone they wanted and didn't get. Maybe those two people are the two who voted him best value, and everyone else called him either bad value or a likely bust (or both). Maybe it was the same two people who absolutely loved him? Tyree Wilson doesn't seem to be as beloved by us as by the NFL though. But we all seem to like some DeWayne McBride, even if all he's taught me is that I just cannot type DeWayne right at the first time of asking.
I'm not sure if Neil's scores are divisive or just have one outlier. He got an average of 2.7, with a low of 1 and a high of 8 (the next highest was 3), against his own rating of 4. Trading away #1 seems to be the focus of the ire here: most people mentioned that trade as a negative (and one person basically just typed F over and over again, which I assume wasn't a positive). People also didn't like his trade in the 6th round, but I think at least part of that is that people were allergic to trading in this draft. But three people said that they actually liked his picks. I think one person summed it up very nicely: "the picks he made were fine, the picks he didn't make were awful."
Benj
Benj gave himself the highest rating of anyone at 9, so lets see if we agree. He's probably helped himself, because Benj is the first person so far to fail to skip the section marking his own draft. I can't be bothered to try to take his ratings out of it though.
Category
Our pick
Runner up
Best player
1.03 Jahmyr Gibbs RB (5)
3.03 Jalin Hyatt WR (2)
Best value
Jalin Hyatt (3)
4.03 Lukas Van Ness DE (2)
Worst value
Lukas Van Ness
6.12 Puka Nacua WR
2.03 Roschon Johnson RB (2)
6.03 Brian Branch S
5.03 Trenton Simpson LB (1)
Likely bust
None of the above (4)
Roschon Johnson (3)
Sleeper
8.03 Keeanu Benton DT (3)
7.03 Charlie Jones WR
11.03 Andrei Iosivas WR
None of the above (2)
Gibbs seems to be very well liked – one person pegged him as a bust, but otherwise he dominated the best player stakes, and Hyatt seems to be a popular pick. But then there's more negativity in the middle rounds, and not a huge amount of votes for his later picks. But also there's nothing that people see as a particularly egregious error either – Roschon Johnson maybe, but even with him more people think he won't be a bust than that he will.
That leads to a pretty strong consensus on Benj's draft. An average of 7.1, with a high of 9 and a low of 6. It's not the 9 that he predicted himself, but its good. Unfortunately that meant that the comments don't have much unexpected. People liked Gibbs, people thought there was good depth throughout, although a couple of people commented that his later picks tailed off a bit. One person also pointed out that he managed a Jamie Oliver approved "Puka Tucker" combo.
Max
The best researched draft, so I'm expecting some very well thought out comments in response.
Category
Our pick
Runner up
Best player
1.05 Jordan Addison WR (4)
2.05 Jack Campbell LB (2)
Best value
3.10 Sam Laporta TE (5)
Jack Campbell
Jordan Addison
3.05 Jayden Reed WR (1)
Worst value
Jack Campbell (5)
4.05 Felix Anudike-Uzomah DE
6.05 DeMarvion Overshow LB
7.05 Deneric Prince RB(1)
Likely bust
Jack Campbell (3)
Jordan Addison
Jayden Reed
None of the above (2)
Sleeper
8.05 Byron Young DE (6)
10.05 Henry To'oto'o LB
None of the above (1)
This feels like a tale of a draft that starts quite strongly and then goes downhill after Sam Laporta. We all hailed him as good value, and agreed that the first two guys he took were the best players (although Jack Campbell probably could have gone later). But apart from Byron Young no one seems to have liked his late picks at all.
That ends up giving an average of 6, with a high of 8 and a low of 4. In lieu of having Max's own rating, I have a picture of the distribution of our ratings.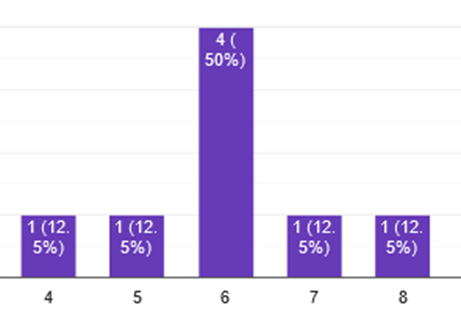 Our comments lauded Max's humour, as well as all of his earlier picks. A couple of people complained about Campbell being a reach and lamented how long Max took to draft (can't wait to see what people say about my drafting speed…). People also seem divided about whether Max really doesn't know what's going on, or whether he's actually secretly well researched. Or maybe there's just a strong correlation between funny names and successful NFL players?
Ian
Ian took the first defensive player, which is often divisive. Well, its divisive to me anyway, in that I usually disagree with it.
Category
Our pick
Runner up
Best player
1.08 Will Anderson DE (5)
2.08 Jonathan Mingo WR (2)
Best value
Jonathan Mingo (2)
Will Anderson
8.08 Dontayvion Wicks WR
5.08 Michael Wilson WR
4.08 Bryan Bresee DT
3.08 Tank Bigsby RB (1)
Worst value
Jonathan Mingo
Bryan Bresee
Tank Bigsby (2)
Michael Wilson (1)
Likely bust
Tank Bigsby (5)
Jonathan Mingo (2)
Sleeper
None of the above (2)
7.08 Justin Shorter WR
Dontayvion Wicks
8.12 YaYa Diaby DE
10.08 Parker Washington WR
12.08 Garrett Williams CB (1)
Once you get past Will Anderson, there's not a lot of consensus here. Maybe that we didn't like Tank Bigsby, with only one vote for him as best value and 7 combined votes for worst value and most likely to be a bust. Ian is the first to get "None of the above" for picking a sleeper, which is something?
It all adds up to a surprisingly (to me) high average of 5.8, with a high of 8 and low of 4, against his own rating of 6. I thought that the table above seemed to say that no one really thought too much of this draft, so I was expecting 4 to 6 as the range. The comments tend to call it unexciting: "nice and steady", "middle of the road", "not blown away". Mingo got the most name checks amongst the comments, but they were a mixed bag (apart from the comment that pointed out "With Mingo and Dorian, we've almost got a misspelled tropical fruits theme going on", which is genius).
Chris
With Neil getting panned primarily for the Bijan trade, I'm hoping that I get some rave reviews.
Category
Our pick
Runner up
Best player
1.01 Bijan Robinson RB (7)
None.
Best value
Bijan Robinson (6)
5.01 Will McDonald DE (1)
Worst value
4.06 Tank Dell WR
2.07 Luke Musgrave TE
1.07 Anthony Richardson QB (2)
1.06 Quentin Johnson WR (1)
Likely bust
2.06 Josh Downs WR (4)
Luke Musgrave
None of the above (2)
Sleeper
8.11 Isaiah Foskey DE (3)
9.06 Marte Mapu LB (2)
Seems like people like Bijan, the only consensus pick in any category throughout the draft. I'm not surprised about the relatively wide spread of worst value, as I think I reached on a few players. If anything, I'm surprised that Josh Downs didn't get any votes in that category.
That adds up to an average of 8.1, with a high of 10. The voting was two 10s, 4 9s and a 1, which is a very confusing spread and not explained by the comments. Maybe the rankings were confusing? A 10 was labelled as Die Hard 1, a 1 was labelled as Die Hard 5. Maybe someone misunderstood? Because I can't imagine anyone thinking "oh yeah, Die Hard 5, that must be the highest rating." Those were the only 10s given out in the draft. Thank you. My own rating was an 8, so not too bad. The comments seemed to be a mix of praise ("ridiculous", "smashed the draft", "nailed it" and "blistering") and abuse "fuck this guy". I still think its a bit generous – I reckon you lot are too low on Olave and I reached a bit too much on my other picks.
Overall
So how did we stack up overall then?
| | | | |
| --- | --- | --- | --- |
| Team | Average rating | Own rating | Difference |
| Dyna Hard | 8.1 | 8 | -0.1 |
| Sadness | 7.4 | 4 | -3.4 |
| Bombermen | 7.1 | 9 | +1.9 |
| Champions | 6 | N/A | N/A |
| Dungeoneers | 6 | N/A | N/A |
| Kelkowski | 5.8 | 6 | +0.2 |
| Losers | 5.6 | 8 | +2.4 |
| Brees | 4.9 | 6 | +1.1 |
| T2 | 4.5 | 6 | +1.5 |
| Hurricanes | 2.7 | 4 | +1.3 |
Chris and Ian were closest to their own ratings, Mike was furthest away (and basically the only one who underrated his own draft), Slatz was most over-optimistic. And we managed to avoid voting for the teams with the least draft capital as worst drafts, but mainly thanks to everyone hating Neil's trade.
I also took a look at who we think is most likely to be a bust or sleeper.
1st
2nd
3rd
Bust
Tank Bigbsy
Devon Achane
Marvin Mims (5)
Josh Downs
Rashee Rice
Tyjae Spears (4)
Too many people to list (3)
Sleeper
Jordan Battle (7)
Devon Witherspoon
Byron Young (6)
Sydney Brown (5)
Technically there's some bias towards Pete, Max and Benj's players here as two didn't complete the survey and Benj voted on his own draft, so they had a max of 8 possible votes compared to 7 for everyone else. I am mildly surprised that we had far more of a consensus on sleepers than busts. To get a sleeper, lots of people need to want the player but pass on them, but to get a bust only one person needs to like a player way more than consensus. Odd.
Trades
I have a feeling I know what the vote on one of these trades will be.
Bijan Robinson trade: 7 votes for Chris, 0 for Neil.
Pick 6.01 (Deuce Vaughn) for a 2024 6th: 5 votes for Mike (Vaughn side), 1 for Neil, 2 for about even
Miles Sanders for 3.10 (Sam Laporta): 7 votes for about even, 1 for Max (Laporta side).
A couple of players on either side but mainly 2.01 for 2.09: 6 votes for Slatz (2.01 side), 2 votes for Neil.
Mark Ingram for 6.10 (Josh Whyle): 5 votes for about even, 2 votes for Pete (6.10 side), 1 vote for Brees.
Devin Duvernay for 5.05 (DeWayne McBride): 3 votes for about even, 3 votes for Neil (5.05 side), 2 votes for Max.
Not a huge amount to add here. The lack of trades was disappointing and surprising.
Other draft bits and pieces
For biggest surprise, trades got mentioned a lot. 6 people mentioned trades in the 8 comments. 5 people mentioned the Bijan trade as biggest surprise and 2 people mentioned lack of trades (and one person mentioned both). The only player pick that was a surprise was Richardson at 1.07.
SirVocea Dennis took away the coveted best name trophy with 3 votes. Zack Kuntz and Bumper Pool ran him close with 2 votes a piece, and Jammie Robinson got the bronze medal. I meant to leave an "other" here – I can't remember if I did and they just got no votes, or whether I forgot. Let's not worry about it. You've probably stopped reading by now.
One person thought the draft should have been in May, 7 people said the timing was just right. Same time next year then lads? And 6 of 8 people said they were happy with free agency running alongside the draft, with only 1 person outraged. So we could happily continue that next year too. And 4 people said the draft took about the right amount of time, 3 said too long and 1 said too short. So pencil in around 8 days next year too.
In terms of who has been best at picking rookies in Dbowl history, Chris got 5 votes, Benj got 2 and Goody got 1. That's the second year in a row that Chris has led this category (3 votes last year), and Benj and Goody were also name checked last year, with 1 vote each. Max got 2 votes last year and none this year, despite outperforming Goody according to our ratings (6 v 4.5), so its a bit surprising that he's fallen off the list. Maybe his "I know nothing" propoganda during the draft worked?
The worst drafter crown is shared by Neil and Pete, with 3 votes each. Benj and Slatz got a vote a piece. Yep, Benj got votes for best drafter and worst drafter. I could probably run back through the last 4 years of surveys and see how that lines up to the voting, but I won't. Neil took the worst drafter crown last year too, with 3 votes, and Pete (1) and Slatz (2) each got votes. Ben and Stew got a vote last year but none this year despite what was seen as a poor draft.
In terms of overall thoughts, three people referenced the disappointing lack of trades, but I feel like fatigue set in at this point, so I won't dwell on this question and will probably remove it next year.
2023 Dynabowl season
Buoyed by a strong draft, Chris took home 50% of the votes to win the Dbowl title in 2023. 2 people voted for Slatz, and one a piece for the Brees and Max. Only 1 person said they wanted to vote for themselves but thought it was arrogant.
Neil got 7 votes for picking first in 2024, with Pete getting the other vote. 1 person admitted to voting for themselves. I'm assuming that was Neil just by sheer weight of votes.
The offensive rookie of the year vote was a three-headed race. "Bijan Robinson" picked up 4 votes, "Bijan" picked up 3 votes, and "Robinson" picked up 1. Should be a tight race. Maybe I should create a shortlist in future… Defensive rookie of the year was similarly consensus-driven, with some variant of Will Anderson picking up 7 votes, with Drew Sanders the outlier with the other vote.
A couple of vaguely interesting rules changes were suggested: scrapping all the bonus picks, changing the order of the bonus picks, and a lottery for the first 6 picks. Plus someone formally submitted one during the draft but forgot what it was, so it must have been very well thought through.
2023 NFL season
Bijan Robinson again got the nod for our NFL offensive rookie of the year (4 votes), with Bryce Young (2) and CJ Stroud/Jahmyr Gibbs (1 each) following him. And Will Anderson kept up the "life imitates fantasy" vibe with 5 votes for NFL defensive rookie of the year with 5 votes. Calijah Kancey, Jalen Carter and Christian Gonzalez got 1 each.
Mahomes got 4 votes for our NFL MVP, with Jalen Hurts picking up 2 and Josh Allen and Lamar Jackson with 1 each. NFL Defensive Player of the Year was far less of a consensus, presumably because its not just limited to one position: Nick Bosa got 2 votes, then Sauce Gardner, Myles Garrett, TJ Watt, Quinnen Williams and Micah Parsons each got 1. The Chiefs and Eagles tied as our Super Bowl favourites with 3 votes each, followed by the Bengals and Bills with a vote each. The Bucs and Titans are our Neil and Pete, with 2 votes each to pick first in the 2024 NFL draft. The Cardinals, Bears, Rams and Texans each got 1 vote.
Errata
There was no consensus on which fictional character you'd pick to play for your team. Superheroes featured heavily (Superman, Incredible Hulk, The Flash and Iron Man), literature/film came in second (Fezzik, Elizabeth Bennet and Mr Tickle) and actual fictional football came in third (Matt Saracen).
If anyone is interested in TV recommendations, there wasn't one mentioned twice. Justified, Yellowjackets, The After Party, Colin From Accounts, The Rehearsal and Picard all got mentioned. In terms of book recommendations, 3 people said they didn't read, and then the following were mentioned: Barca: The Rise and Fall of a Modern Superclub; The Devil in the White City; Jade City/Empire/Legacy; Murderbot; Shogun; Far From the Madding Crowd. Game recommendations didn't get much interest: Clank in Space, Monopoly, Marvel Snap, Legacies, Unpacking, and Immortal. You can work out for yourself which are board games and which are video games.
And the question you've probably scrolled right to the end immediately to find the answer to: mightiest NFL dong. No consensus here: Bumper Pool, Hunter Renfrow, Nick Foles, Jalen Ramsey, Orlando Brown, Daniel Faalele and Dawand Jones each got a vote. As did Vietnam. The mystery continues.