Ho ho ho! Merry COTY everybody, and a very happy Dynabowl Final (for somebody).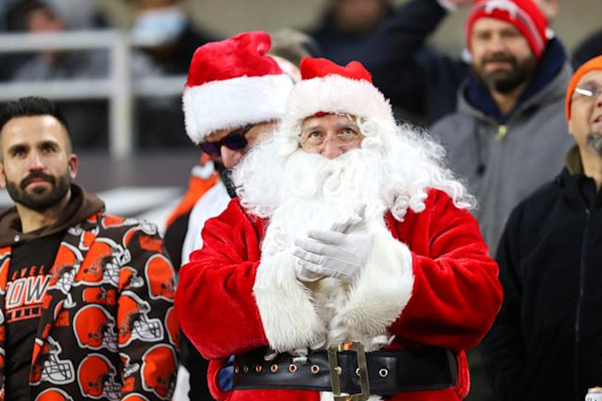 I'm shaking things up a little this year, remembering back to when this began and I used to post daily updates across the duration of the final. Instead of having a nice, neat table at the top I'm doing a reverse order reveal with all the comments before finally revealing the winner. And then I can crack on with the questions you all really care about, like "Wwwwwwwwhhhhhhhhhhhyyyyyyyyyyyyyyyyyyyyyyyyyyyyy?!?!?".
So without further ado, who the Sam Hell came 10th in our little vote? I can tell you who didn't… Everyone. That's right, we have no tenth place. We have no ninth place either. We're coming straight in at number 8 with a bullet, where three people have tied. And controversially, one of those people led a team to more than 4 wins. I'm excited to find out which 4-win team came 7th in the voting and the justification for them outperforming one of the other coaches. I've genuinely not read the comments yet so I am just as excited as you are.
=8th Place – Geoffrey Manboob – The Dynasty of Sadness – 6-8 – 1 point
Poor Mike. Will he ever turn it around. Looked for a period but was then clearly too tired from the 2nd child and faded badly
Moving in the right direction and managed to win 4 games against Tim, somehow. There is the trace of a pulse and a comeback could be on the cards.
An odd duck of a year. Not good enough to be mediocre (Ben, Goody, Max) and not bad enough to say you were rebuilding and get a good draft pick (Neil, Pete). Needs to really commit to one or the other.
I'd have tried to make some win now moves to capitalise on the last couple of years with his big money RBs, but maybe too many holes on the roster to do that. Felt like an in between year where he wasn't rebuilding but wasn't really aiming to contend either.
An average year, but inconsistent and some players just not performing and some wasted FA pickups
Good season considering the injury to Lance and Kyle Pitts can get in the bin
Owl winners 2029
Mark would be turning in his grave if he could see this. There are many things wrong with that, conceptually and literally.
Marginally better than me
= 8th place – Benjamin Hendy – Dynablaster Bombermen – 4-10 – 1 point
Surprisingly poor
Fifth highest points for, highest points against. Wildly inconsistent from game to game. Roster overhaul needed. What happened to Aaron Donald?
If there was a prize for having the most safeties on IR, I would have given 10 points. Good effort but not his year.
Feels like Ben should have been much better, because in and out of season he's eagle eyed and a strong coach
Nil Poits. Like most recent Uk Eurovision entries, destined to be forgotten quickly
Awful. Looked like he should have been a contender but a season to forget. Needs to use the high pick wisely
Very unlucky with a lot of his defeats, but he'd have expected more from this season.
An ignominious end to his campaign. The reliance on Allen telling, and the overestimation of Queen, apparent
Pity point goes to Ben for awful luck. Although I hate him for scoring well and then getting a really good pick. I'd rather have had his season than mine.
=8th – Pete Conaghan – East Flanders Dungeoneers – 4-10 – 1 point
I think it'll be funny for Pete to finish above Ben and Mike for CotY. Rubbish season, but sometimes you have to take your medicine, and this medicine was a $200 DeAndre Hopkins sized suppository.

[Alas, this failed to happen. In your face!]
Seems like he's a long way from contention and didn't get any closer this year.
Just as shit as me
Unbelievable wins at the end. Long may it continue during the playoffs, when it doesn't matter
Christian Watson looks like a great find. Looking good for next year
Tanked beautifully
The worst
That shocking owl victory seems a long time ago now. Weighed down by some awful contracts. Will be able to rebuild once these are cleared
How did Pete get as many wins as he did? That should probably be worth a point and yet it isn't.
Reaping what he sowed when he spent all the money to capture the title. Will finally have Hopkins off his books next season, only to spend more and more on Adams. At least he chose the right WR to spend the money on I guess.
7th – Neil Hawke – Hawkesville Hurricanes – 4-10 – 2 points
Fighting the good fight
Lowest scorers, but plenty of cap space next year to undertake the required overhaul, if the players are on the free agency market for him.
Amazing. How he got even 1 win from that roster is beyond me
Tempted to give him a point just for the Dobbins, Kamara and Bosa trade. Committed to the tank, which is good. Still pretty poor team though.
couldnt even master the tank….shocking, can I award minus numbers?
Beat Ben twice, therefore keeping his sister as a trophy for another year. The only game that matters.
NA
Did his best to ruin his tanking but got away with it.
Great late season resurgence
-100/10 for weeks 1-10 compared to 90/10 for weeks 10 onwards. Really turned it on when it didn't really matter. All he did was managed to irritate others so bonus marks
6th – Max Cubberley – Champions of the Sun – 7-7 – 9 points
What a plank.
Much better results than his scores should have merited. Astounded by how well he's done (he is, I mean) and rightfully calling out people for not being able to take him out of the playoff picture sooner. He'll be back stronger next year though.
He's always in the thick of it but doesn't seem to have quite nailed it this season
Did surprisingly well given sold some starters. Pachecho was a nice pick up
Didn't see him competing this year but fair do's hung around to the very end. In season pickups really helped
Max gets a point for some fantastic waiver wire pick ups that helped him do very well
Roughing it out in a difficult div
Lots of promise for the future.
Forgettable.
5th – Chris Braithwaite – Dyna Hard Another Day – 7-7 – 10.5 points
Slugfest at Nakatomi Plaza
Still not bottom scored. Tried really hard to end that streak down the stretch, but couldn't even do that right. Summed up the season.
Had easily the best team so shocking not to have made the playoffs. Not being able to stream DBs has really hurt him
Came off poorly in the trades with TT. Jefferson looks ridiculous, whereas losing Lockett, gaining Evans, doesn't look like a win
Chris has tenacity in spades. He's like the Swiss Tony of the Dynabowl.
Unlucky not to be in the play-offs this year
Very disappointing. I feel like I was unlucky to miss the playoffs while being 3rd top scorer (and top scorer until the final week).
Unusually weak in the wins column, but a lot of points. No need to change much. Expect the playoffs next year.
Chris is the most consistently good manager in the league. Even in a down year he only just missed the playoffs.
4th – James 'Goody' Goodson – Tamworth Two – 9-5 – 15 points
Slytherin, but with a cheeky side
Can't vote for myself but throw some respect on the name. Play-offs again, 5 or 6 years on the bounce.
Sixth top scorers. Nowhere near deserving of a playoff spot. About to be deservedly beaten by the Brees. Eat it.
Pierce was a great pick and Zonovan for $3!
Seems to be the opposite of Benj – low scoring but always winning. Did better than I expected in terms of wins, but about what I expected in terms of points.
consistent, always consistent
Plucky underpigs. Surprise package. Jammy fuckers. All of the above. Take your pick…
Surprising to see them non competitive this year
Goody does it again, somehow. No-one knows how.
How they've made the playoffs I don't know. Almost certainly cheated somewhere along the way
3rd – Ian Kulkowski – Kelkowski Don't Play By No Dyna Rules – 9-5 – 21.5 points
Won Tim. That used to be an accomplishment. This year it was not.
Continued to build and add strength where it mattered. Over performed due to having a ridiculously easy division that should never be forgotten
Probably underperformed a bit, but he's still in with a shot at the title with a team that can beat anyone on its day. He'll probably be in contention again next year.
Had some great successes this year
The one true dynasty
Dramatic fall from grace
Another good year for Ian who is always there or thereabouts.
Went big on some contracts, has paid off
Tim's only representative in the playoffs. A fraction off being top scorers. A chance for back to back titles and possibly the first team that could genuinely call itself a dynasty. We all need to make sure he can't do it again next year.
2nd – David Slater – Dynasore Losers – 10-4 – 39 points
This is the ninth season and finally the rebuild that was started in year one is complete. Slightly faster than the Lions. Could this be his year? I think I speak for everyone when I say, "God, please, no".
Losers are back after a long absence. I thought slate had missed his window but come good this year.
Strong at all positions and consistent high scorer
Finally had a year where he's not derailed by injuries. Not sure he did anything particularly brilliant this year, more a culmination of decent use of lots of high draft picks in previous years and staying with it rather than rebuilding again.
Finally an injury free year shows us he was the best all along
Brilliant depth and some shrewd pick ups in FA
After so long, David has had a great season. All that knowledge coming good. Only issue now is if he makes it through the playoffs and wins we'll never hear the end of it
Apparently if you get enough top 3 picks then anyone can make the playoffs. In all seriousness, Slatz' team is very consistent all round with some powerhouse positions and deserves to have gone as far as it has.
His to lose this year, a good team and it's all come together. If he fucks this, he's never winning it.
1st – Ben Archer and Stew "Stewpot" Carter – Here Comes The Brees – 10-4 – 49 points
The best team. I can only assume Stew was brought in from either the Eagles or the Bills, the way they've been able to so rapidly change the narrative and turn this team into a winner.
Really great building over the last few years, with it all starting to come together and not solely rely on individuals (Jonathan Taylor, cough). Some terrific defensive players to add to their offence
Probably should have given them more points – top scoring and number one ranking. But… there's a lot of high picks here. They should be better, but they've not separated from the pack. Questionable in-season management to build on strong core and address weaknesses.
Finally they come good. Great team work and consistent largely too
Stew's steadying presence perfectly complementing mercurial, inspiring Ben
Did really well to make it to the playoffs with Jonathan Taylor being such hot garbage all season. Good squad building.
They've done really well over the last few years, building up a strong team with a great defense. Not much to say really.
Great season. The years of high draft picks are finally paying off. Good when Dan was onboard in the first few years. Then shit when it was just Ben. Now good again with stew. Interesting
| | | |
| --- | --- | --- |
| Place | Coach(es) | Points |
| 1st | Ben Archer & Stewart Carter | 49 |
| 2nd | David Slater | 39 |
| 3rd | Ian Kulkowski | 21.5 |
| 4th | James Goodson | 15 |
| 5th | Chris Braithwaite | 10.5 |
| 6th | Max Cubberley | 9 |
| 7th | Neil Hawke | 2* |
| =8th | Pete Conaghan | 1 |
| =8th | Benjamin Hendy | 1 |
| =8th | Geoffrey Manboob | 1 |
And now for a little bit of history – the results of COTY through the ages. 2018 was missing but I think we can all agree that it was the only title Chris claimed that year, given he went undefeated in the regular season (an incredibly important qualifier), and the other teams in the playoffs were the Sadness, the Dungeoneers and the Two. It is especially sad we missed this voting for the Sadness and the Dungeoneers given what else is in the table below.
We also skipped it in 2021, which I genuinely don't remember. I could have sworn I had done it. Does anyone else have this false memory? Anyway, I think the top three would have been Kelkowski, Hard and Bombermen, though Tamworth may have squeezed into 3rd. The first three teams were the top scorers (in order) by around 250 points over Tamworth, but Tamworth eked out an extra win over the Bombermen by virtue of being in Peter. That would have had less impact on the overall COTY table.
| | | | | | | | | |
| --- | --- | --- | --- | --- | --- | --- | --- | --- |
| | 2014 | 2015 | 2016 | 2017 | 2019 | 2020 | 2022 | Total |
| Dungeoneers | 6 | 6 | 8 | 6 | 2 | 8 | 8 | 44 |
| Brees | 3 | 7 | 6 | 7 | 8 | 8 | 1 | 40 |
| Two | 8 | 3 | 7 | 8 | 5 | 3 | 4 | 38 |
| Sadness | 10 | 10 | 2 | 1 | 10 | 10 | 8 | 51 |
| Losers | 4 | 8 | 9 | 10 | 4 | 5 | 2 | 42 |
| Hurricanes | 2 | 8 | 9 | 3 | 9 | 7 | 7 | 45 |
| Bombermen | 5 | 5 | 1 | 4 | 1 | 3 | 8 | 27 |
| Champions | 9 | 1 | 5 | 5 | 2 | 2 | 6 | 30 |
| Kelkowski | 1 | 4 | 4 | 9 | 7 | 6 | 3 | 34 |
| Hard | 7 | 2 | 3 | 2 | 6 | 1 | 5 | 26 |
The total is merely the sum of positions, so lower is better. So The Bombermen and, effectively, the Hard and Kelkowski are all 2 times COTYs, with all the COTY power concentrated within those last 4 teams, but are we witnessing a changing of the guard in this year's championship? Probably not, it's just one of those freak things, right? I mean, Leicester won the premier league, Big Dick Nick Foles beat the GOAT Tom Brady in the Superbowl, while Eli did it twice. It's the only way to explain the Brees vs the Losers.
Anyway, onwards!
The NFL Season
What was the highest high?
Deshaun Watson being shit, probably. As long as it continues.
The Vikings v Bills game.
Jefferson's ridiculous catch up week 10
All of the Jets
Mike McDaniel
Mike Evans vs Marshon Lattimore fight in week 2, two very punchable players punching each other
Justin Fields; 61yd TD run
Justin Jefferson's catch
Seeing Mr Irrelevant bring the heat. Zero to Hero, stand up Purdy.
Raiders beating the Pats due to the least-Bill-Belichick play of all time
Let's be honest – if we'd all filled this out a little later, that last one would have been a shoo-in.
We all know the lowest of the low is Deshaun Watson, but setting him to one side what was the worst of the season?
Deshaun what? Oh, the Tua concussion and going back in to play made me feel sick
Tua's concussion that wasn't that obviously was. But it wasn't. But it was. And was it Rusty who was concussed, came off, came back on and then 10 minutes later came off with 'delayed effects'?
Tua's concussion
Anyway, all that terrible concussion business.
Not being able to get tickets for the London games 🙁

[I feel the pain of this one, although probably a blessing not to see the shitshow the Packers put on at £100+ per ticket]
Baker getting cut 😉
The Trey Lance injury? Got to feel for the guy and would've been interesting
Anything the Commanders management touches
Worse than Deshaun Watson – Dan Snyder. But hopefully not for much longer
Nope, its still worth saying Watson, the fact he's playing is a shambles
The way the league and especially broadcasters have just accepted Watson and ignored why he was out.[I said not Watson. Some people just can't take a hint. Correctly, probably]
What does the NFL need to change, more than anything else?
Ban Watson
The presence of Deshaun Watson
Concussion protocols – get it together!
Concussion protocols. Not fun. Or funny. But seriously fucked up.
I've probably mentioned concussions before but the Tua thing was ridiculous
Concussion. Something something bad owners Dan Snyder something something
Not having rigged investigations
Refs fucking up calls that can easily be corrected by watching on video.
Correctly address the black head coach situation and not just default to the broken Rooney Rule
Stupid fines for taunting. More taunting please

[I mean, not more than anything else, but I still agree that this should be allowed]
And what, if anything, has the NFL surprisingly managed to get right? And will they make sure they prevent it in the future?
Concussions? It could still be better, but it's moving in the right direction. Even if the reason for that movement is… bad.

[Well, almost everyone disagreed in the above question]
I'm drawing a blank.
Has anything improved this year?
Can't think of anything new
I can't think of anything
I don't think they have surprisingly done anything tbh.
Nothing
Extra week
The draft I guess
There's still a lot of parity. The whole setup still gives the any given Sunday any team can win vibe.
Who's going to the Superbowl and who will win?
Chiefs over Eagles. Though I'd prefer Bills vs Niners, with, I think, a Bills win
Chiefs vs Eagles, Chiefs to win
Eagles vs chiefs – Eagles win
Eagles V Chiefs, Eagles
Chiefs and Eagles and Eagles will win
Chiefs v Eagles. I reckon the Chiefs will win.
Bengals – Eagles. Eagles win.
Bengals over eagles
49ers v KC, hard to call. Want the 49ers, think KC
49ers – Bengals
Bills and Niners. Bills win it all.
Need a summary? Here you go:
| | | | |
| --- | --- | --- | --- |
| | Win | Lose | ?? |
| Chiefs | 4 | 3 | 0 |
| Eagles | 4 | 4 | 0 |
| Bengals | 1 | 1 | 1 |
| Niners | 0 | 2 | 1 |
| Bills | 1 | 0 | 0 |
And now onto the important stuff…
The Dynabowl Season
Who's winning the Superb Owl?
I'm impressed, only one of you failed to pick a winner. And the one person who just stated a winner did so when the finalists were known.
Brees over Losers.
Brees will beat me
Brees beats Losers*
Slatz*
Brees V Losers. Losers win*
Ben and Stew will beat Ian. If that's even possible.*
Ian (over Goody)
Brees over Kelkowski. Please.
Slatz vs Goody, Slatz to win
T2 Kelkowski – Kelkowski winning
Losers v Brees*
*These answers were provided when the finalists were either known or could be guessed because minimal players were left to play.
Best Dynabowl moment/thing/happening?
Dominance of Peter
Nice to see Peter doing better
Just Peter not being utterly shit for once. It's nice to have actual competition in that division.
Neil doing the double over Ben
Neil and Pete's late season revival messing with people's playoff bids
My results in the confidence and survivor pools. Literally the only good things to happen.
Not losing every game
1. The stat correction for Manboob. 2. Neil and Pete turning in to competent managers for 4 weeks and screwing up a few players play off hopes
Me hitting a +220 score when it didn't matter
I don't remember anything memorable
And the worst?
Peter somehow getting good.
Peter doing well and finally showing everyone we deserve respect. Hang on. Did you say worst?
Some of the team selections have been a bit whiffy. Lack of effort rather than tanking, but it's not like it's that hard to make sure you have players and set a line-up for 14 weeks.
Everyone being so incompetent they let me win too many games to tank yet again
The Dynabowl rules chat, at times
Not getting bonus draft picks for winning the survivor and confidence picks
The lack of trades this year has been disappointing.
I don't remember anything memorable
Nothing to add
None
Should we do anything to encourage more trading? If so, what??
No
Don't think so. We do have some regular trades.
No, seems fine to me
Nope, they're tough anyway
Not necessarily
Trade beer trolley. Do a trade, get a beer.
Make conditions compulsory
Yes we should, but no clue what. It feels hard to deal with some people as they must "win" all trades
Yes. Allow teams to eat guarantee from players they trade away so other teams can more easily afford them.
I think something to make managing salaries easier. I think cap carryover helps a bit, but allowing teams to trade cap space or a team trading a guy away but keeping his current year guarantees would help. E.g. Hopkins would have been an attractive trade target for 1 year at $20ish, rather than utterly untradable at $200+
Did the 'every player signed in season has a guarantee' thing work, and why not?
Yes
Yes I guess
It was fine
It slowed down Chris and his CBs
It didn't not work. Chris didn't stream cornerbacks.
Can't think of an issue with it. Seems fine.
Definitely helped
There was definitely less streaming so yes probably
Yes. Made it feel more like dynasty. Although I'd still like every FA to get multi year contracts.
Too soon to tell
No. Less money is spent on players in general and it doesn't really make sense. And didn't stop the churn as much as it should have.
Dynabowl MVP
Micah Parsons – 3
Josh Jacobs, Jalen Hurts – 2
Patrick Mahomes, Josh Allen, Travis Kelce – 1
And one write in, with the following comment:
Justin Fields. In terms of value over position it's Kelce, but team wins matters for MVP and Chris didn't make the playoffs.
Dynabowl Rookie of the Year
Ryan Stonehouse, Christian Watson, Chris Olave, Kenneth Walker III – 2
Garrett Wilson, Tariq Woolen, Tyler Algier – 1
Best pre-season free agent signing?
Who remembers other people's free agent signings?
Tony Pollard x 4
Maxx Crosby. Best scoring defensive player. $21 in free agency.
Maxxxxx Crosby. I can't remember anyone on anyone else's team
Devin Singletary
Pass
Kirk cousins
Best in-season free agent signing, if anyone can remember/be arsed to look anything up?
Jamaal WIlliams by a mile. Although as he was on the first team I looked at, that might be wrong. I didn't look further when I saw he was won on a blind bid.
Jamaal Williams another 2 times
Frankie Luvu x 2
Zonavan Knight
Drue Tranquill
Geno
I mean, Tariq Woolen I guess? Don't seem to be too many on the winning teams.
Pass
Miscellany
Now, I've had a great year and am feeling sparkling and bright, hence the general tone of some of these questions… The answers to the first have not picked up.
The Chatterbowl auction's time is coming
Yes, but it won't appeal to the casual players if it is.
I do not understand why it isn't already
The draft is a cathartic purge and people should feel privileged that they are debating the Jets 4th choice RB
No way max can successfully arrange an auction
Yep
I don't care about that
Absolutely
Other
no.
Not involved
What?
Is it worse supporting a league which, year in, year out, exploits giving young (predominantly black) men significant brain injuries, or following a one off world cup that was built on the bodies of slavery and is held in a country which criminalises people who dare to love people of the same sex? (show your working)
We're all going to hell
It (sports) washes its face
World cup. At least the NFL tries to legitimately improve things rather than just brush it under the blood stained rug.
The world cup is probably worse.
World cup
The World Cup.

The young black men get a raw deal, but as part of the deal some of them get to be rich. Life-changingly so. When asked, they'll always say it is worth the sacrifice. Though I'm not sure they're entirely able to judge without having lived with the after-effects first.

However, those who have died for the World Cup in Qatar get no benefit, instead they've poured money into the pockets of former players to boost their status, and the money and rewards (prestige, influence) will flow to FIFA and the Qatari royals. Everyone involved is dirtied by association.
Does everything have to be a competition? They are both terrible and we are terrible people for following either of them with quite the fervour we do
Everything is horrendous, we shouldn't watch anything or support anything
Luckily I don't follow either sport
Both are bad, but at least the consequences of the brain injuries are basically a risk/reward thing entirely within the choosing of the player (in that he can choose to avoid the brain injuries and not play, and can get a shit load of money if he does), whereas the world cup just fucks over a load of people who don't actually have a chance at any benefit. And emboldens all other shitty regimes to do the same.
It's worse if you're managing Neil or Pete's dynasty team
I want to get away from it all. What's the best holiday destination?
New Zealand. It is truly incredible. If you are interested I can send you a 4 week itinerary which is great and still leaves about another 3 months of fun stuff you could do there. And you can cut some of that down to make it a more manageable holiday. Probably 2-3 week minimum though.
Rome. The food. The mopeds. The history. The sexism. The Mafia.
Tuscany
Vietnam
Whenever and wherever the England test team are playing next. (Unless that is Old Trafford)
The Rockies
Jordan
Wales
Your Mum's caravan is quite nice
Were someone to currently be living in a Sea of Black by Strangelove what song would you play them to lift them out of the quagmire?
Eh?
I have no clue what you're on about
Yes
"I found Arcade Fire's latest album WE really really relatable for my depression. But then it turned out the singer is a serial sexual assaulter who is seemingly utterly unrepentant about that, when having built a career and brand of being pretty right on. So if you can separate the artist and the art, Unconditional 1 (Lookout Kid) is fantastic and life affirming. But I haven't been able to listen to it in months because of the stories of Win Butler being a dickhole.
Otherwise, This Year by The Mountain Goats."
Call Me Maybe, Carly Rae Jepson
Michael Buble's Christmas hits
Sea of Love by Phil Phillips and the Twilights
Run to the Hills by Iron Maiden
Sometimes you need someone to empathise and understand how you feel (Grey by Ani Di Franco), sometimes you need a kick up the arse (Calling all skeletons by Alkaline Trio). Sometimes you need something irritatingly, frustratingly irresistible and upbeat (Mr Blue Sky by ELO). And sometimes you just need some perspective (A Change Is Gonna Come by Sam Cooke).
Currently, Merry Christmas everyone by Shakin' Stevens
Wwwwwwwwhhhhhhhhhhhyyyyyyyyyyyyyyyyyyyyyyyyyyyyy?!?!?
Why not?
Why not
not?
Is this question mandatory?
42
It's like being in a Buble bath
It's a fucking tune, gets you moving and practically helps think of an escape [re the Iron Maiden song, I believe]
Becaaaaaaaaaaaaauuuuuuuusssse
Zzzzzzzzzzzzzzzzzzzeeeeeeeeeeeeeeeeeddddddddddd!
Because it's the best Christmas song ever [Talking entirely correctly about a great bit of Shakey]
What have I not asked but should have?
Is it time to give it all up?
Should we end the league if slatz wins?
Did you prefer Max with hair or do you prefer the new sleaker skinhead Max?
Trade loser / winner
Nope, perfect length
No
Where on the doll did TT touch you for you to disrespect them so much?
I feel like it would only be fair if you're going to ask "Wwwwwwwwhhhhhhhhhhhyyyyyyyyyyyyyyyyyyyyyyyyyyyyy?!?!" to ask "Wwwwwwwwhhhhhhhhhhhyyyyyyyyyyyyyyyyyyyyyyyyyyyyy Not ?!?!"
Also ask if people have any new years resolutions.
Who will be the next parent-to-be?
NA
I feel like given the timing, some questions about favourite media from the year just gone might be quite good? Best book, best film, best TV show, best game, best album. Worst case, people might get some decent recommendations.