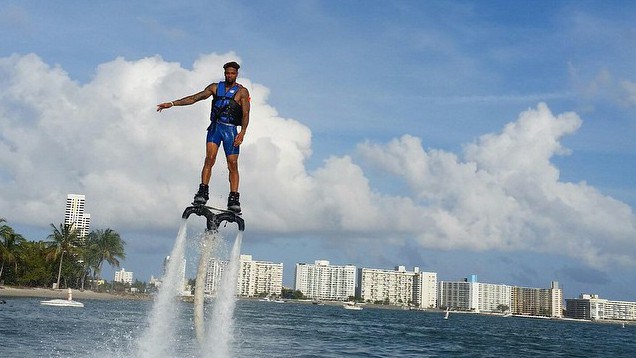 The 2014 DynaBowl season is in the books and the 2015 rookie draft is just around the corner so now seems like a good time to look back at how the 2014 rookie draft might have gone, had it been a thing and had we known what we know now about the last year's rookies.
I'm not looking at this from a team need perspective, merely ranking the players in the order that I might have had them on my draft board if I knew then what I know now. Maybe.
1. Odell Beckham Jr – New York Giants/Dynasty of Sadness
The star of the season, the star of the Madden cover for 2015 and the star of Tinder profiles around the world. Probably.
Also, the player most likely to become a super hero.
2. Mike Evans – Tampa Bay Buccaneers/Champions of the Sun
The consensus number 2 rookie last year is the number 2 rookie in this revision. Only he's behind a different guy this time. He's very tall, which may help prevent some of the many INTs Jameis Winston is going to try to throw this year.
3. Sammy Watkins – Buffalo Bills/Dyna Hard
Had a more typical rookie WR season, and one which, in normal years, would be considered outstanding. Last year was not a normal year for rookie WRs. If Buffalo ever find someone who can throw a football (or even look like they've seen a football before), he could turn out to be very special indeed.
4. Jeremy Hill – Cincinnati Bengals/Dynablaster Bombermen
A weak year for rookie running backs, but Hill overcame the odds and has left the Bengals with a nice decision to make over how best to utilise him and Geovani Bernard.
5. Brandin Cooks – New Orleans Saints/Dynablaster Bombermen
He got injured, yes, but that doesn't really matter for this. The key was he looked like he belonged and, given his mentality, he's only likely to improve. May not become an elite guy – he's too small for that – but if he becomes Randall Cobb 2.0 I'll be very happy.
6. Kelvin Benjamin – Carolina Panthers/Dynablaster Bombermen
He was basically the only WR the Panthers had last year. Now they have Funchess to play opposite him he won't attract quite so much attention. However, he drops a few too many balls. Improve that stat and he would leap a few slots.
7. Jordan Matthews – Philadelphia Eagles/Dynablaster Bombermen
The Eagles have slowly removed every other potential WR1 from their books leaving Matthews as the main man. For now. Agholor could change that, but, for now, the leading WR in a Chip Kelly offense is a desirable component.
8. Aaron Donald – St Louis Rams/Here Comes The Brees
The first defensive player on the list and the first of two Rams/Brees rookies. High scoring in his rookie season, finishing 2nd at DT behind Suh. Unlikely to become JJ Watt (which is like saying a member of Coronation Street is unlikely to become Neo from the Matrix) (And I don't mean unlikely to become Keanu Reeves, I mean actually Neo), but likely to remain a top scoring defensive player for years to come.
9. Carlos Hyde – San Francisco 49ers/Dynablaster Bombermen
Had a time share role with Frank Gore and showed he can be a solid, though not spectacular back. Probably a FF RB2 going forward now that the job is his alone to lose.
10. Tre Mason – St Louis Rams/Here Comes The Brees
On performance last year he might deserve to be a couple of slots higher. After the signing of Gurley in the 2015 rookie draft he might deserve to be a couple of slots lower. For now he can sit here.
11. Jarvis Landry – Miami Dolphins/Tamworth Two
OBJ's college roommate. The pair practiced one-handed catches together. The Dolphins now have a crowded roster with Stills, Cameron, and the newly signed DeVante Parker, but Landry could play a big role going forward.
12. Charles Sims – Tampa Bay Buccaneers/Here Comes The Brees
Came in as the third man in line but Doug Martin is made of biscuits and the Buccs are thought to be promoting Sims to starter for 2015.
13. Teddy Bridgeater – Minnesota Vikings/Dynasty of Sadness
Terrible pro-day and his hands are too small. Isn't that the received wisdom? In 2014 he was head and shoulders above the other rookie QBs.
14. Martavis Bryant – Pittsburgh Steelers/Dyna Hard
Solid first season that would be seen a good building block for a rookie WR were it not for every WR above him on this list.
15. Austin Sefarian-Jenkins – Tampa Bay Buccaneers/Dynablaster Bombermen
Tight Ends typically do very little in their first season. ASJ did very little in his first season, but he did a little more than Eric Ebron. He looked more up to speed with the NFL and he was playing with a terrible QB. In 2015, he'll be playing with a slightly better (though considerably more rapey (allegedly)) QB.
16. Jerrick McKinnon – Minnesota Vikings/Champions of the Sun
Showed some decent glimpses in a time-share role with Matt Asiata and with AP's role up in the air a chance could be there for the taking. Or he could be Christine Michael in colder climes and never amount to anything.
17. Kyle Fuller – Chicago Bears/Dynasty of Sadness
Had a fast start to his time in the league and managed to be one of the best defensive Bears – a title with much competition. Finished 2nd in CB points for the year. Spectacular arrival.
18. Andre Williams – New York Giants/Dynablaster Bombermen
Adequate.
19. Khalil Mack – Oakland Raiders/Champions of the Sun
Showed enough potential to get Raiders fans very excited. As the team rebuilds, should become the leader on defence and could become something pretty special.
20. Bradley Roby – Denver Broncos/Dynablaster Bombermen
An excellent first season, placing 12th overall in the league for CB points, and behind only Fuller in the rookie positional ratings.
21. Cody Parkey – Philadelphia Eagles/East Flanders Dungeoneers
The first real skill position player to make the list.